Your customised itinerary will be based on your interests and time available.
Perfect for people staying longer. Not available as a shore excursion.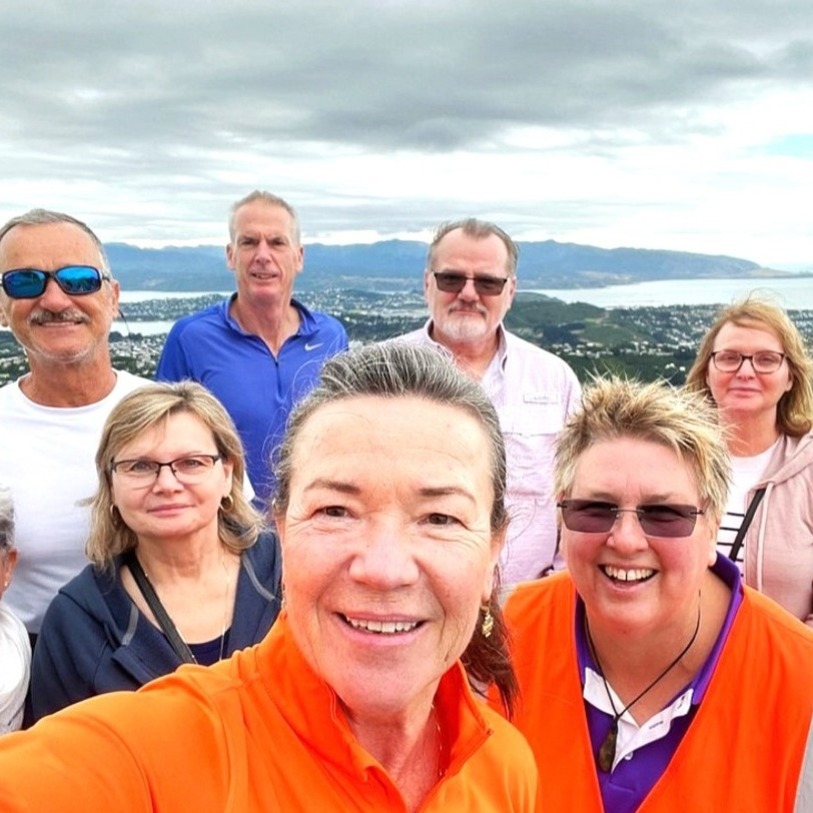 Want to experience Wellington your way? OK, let's do it.
Welly & Beyond gives you a chance to do it all, or at least as much as you can in a few days. We design customised experiences that mix the freedom to explore inner city attractions on your own while we take you to the must-visit destinations that lie beyond the city.
Time is precious, let's make sure you spend your time in Wellington doing the things you love. We start by talking with you.
Once we have got to know you, we will create your unique itinerary so you can explore the highlights of Wellington City, rural Wairarapa and/or the breathtaking Kāpiti Coast at your own pace.
Welly & Beyond is ideal for people spending a few days in Wellington. Are you travelling with children or grandparents? No worries, we will design an experience that caters to everyone's interests and ensures a fantastic time for all.
Let us be your guides as you embark on your Wellington story.
"What a magnificent day with Suzee!  She picked us up in a really nice van and brought local NZ-made drinks and snacks for us. We were able to see a few highlights in Wellington on our day with her that we couldn't get done the day before (Parliament, cable car, etc.) and then she got us out of the city.
The area around Wellington is beautiful! She took us to many beautiful places including Paraparaumu Beach, the Kapiti Island lookout, the Paekākāriki Marine's Memorial, the Paekākāriki Hill Road lookout, and Mt. Victoria. We had lunch together where the locals go – great fish and chips! Suzee surprised us with a trip to a farm where we saw incredible things – won't go into detail as I don't want to ruin it for others.
It is one of the best things we did on our trip to NZ, and we now have a great appreciation for Wellington and the surrounding area. Suzee felt like family immediately and we will definitely stay in touch with her."
"What a delight it was meeting smiling Suzee of uTours. Instantly felt at home. We spent a fantastic day exploring only the best sites in the region. We enjoyed a drink at a coffee shop where locals mingle, providing a glimpse into Wellington lifestyles & its communities.
The tour diverted off the beaten track to explore a few hidden gems, through, green hills and valleys. Stopped at vantage points to capture and enjoy the sights.
We headed back to Wellington along coastline – equally as stunning. In a nutshell we spent a fun filled memorable day with Suzee. Throughout the tour, Suzee's conversation and commentary was engaging, she pleasantly answered all our questions. Suzee is incredibly patient and informative sharing her wealth of knowledge about Wellington.
Highly recommend uTours."
Experience Wellington's Endless Possibilities
What can you expect from our "Welly & Beyond" tour? Some people call it Destination Management – we call it making the most of your time in Wellington.
Have a look at our other tours, see what interests you, then get in touch. We will work out how to make it all come together for you.
Let's build your tour. Choose from:
Pick up from your accommodation – at a time convenient to you.
Be blown away by the view – visit Mt Victoria and/or the Wind Turbine lookouts.
Go iconic Wellington City – Be wowed by the rugged South Coast, ride the cable car, smell the roses in the Botanical Gardens & talk politics, or not, in Parliament Grounds.
Experience a classic kiwi drive – the Kāpiti Coast has Paekākāriki Hill Rd and the Wairarapa has the Remutaka Hill Rd.
Feed the soul – So many choices of boutique chocolate & cheese, ice cream, olive oil, honey, fresh fish and chips, craft beer & locally produced wine with a seasonal vineyard platter.
Take some quiet time – walk along a Kāpiti beach or go for a bush walk in the Wairarapa.
Love shopping – anything you need or want, let us know and we will get you sorted.
Light locally made refreshments included.
We will return you to your accommodation or a preferred drop off point.
$30 discount per adult for groups of four or more adults.
Please let us know your preferred pick-up time and location eg the Port, the Airport or your accommodation.

 

Our online booking system has a suggested start time of 9.30am. We will confirm your start time and pick up location before you travel. Afternoon tours are available.
Port Pick up and drop off for cruise passengers.
Light refreshments included.
Lunch is at customer cost on the day. We recommend excellent local food options to meet your food requirements.
Additional attractions may be available at customer cost.
Itinerary may change due to weather and availability.
Reasonable Terms & Conditions apply.
So we can best meet your needs, please email before booking if you:
have six or more people
would like an airport pick up & have more than one suitcase per person
require a wheelchair accessible vehicle
have children under five years of age
want to include specific activities which require booking eg WETA 90 minute tour.
Previous Tour
Rural Wairarapa
Next Tour
Wellington Wonders